POPS CONCERTS ARE TAKING PLACE THIS WEEK!
Join us for the final concerts of the school year! All concerts begin at 7:00pm in the NHS Theater:
Wednesday, 5/17 – Jazz Combo II, String Orchestra, Symphonic Orchestra, Wind Ensemble (see the concert program HERE)
Thursday, 5/18 – Concert Band, Symphonic Band, Concert Orchestra, Wind Symphony (see the concert program HERE)
Friday, 5/19 – Jazz Combo I, Jazz Ensemble I, Philharmonic Orchestra, Vocal Music
Ticket & Voucher Information:
Wed, 5/17 and Thur, 5/18 Concert prices are:  $10 adults, $5 students and seniors
Fri, 5/19 Gala prices are:  $15 adults, $10 students and seniors
You can exchange your KMA (Keep Music Alive donation) vouchers for tickets for the Wed, 5/17 and Thur, 5/18 concerts. You can use ONE ticket to attend both concerts.
KMA vouchers will not be accepted at the Fri, 5/19 Gala. You must buy a separate ticket for this performance.
No presales; all tickets and voucher exchanges will be at the concert.
CHARTER OAK DONORS: You will be seated starting at 6:45pm for the Wed, 5/17 and Thur, 5/18 concerts. Please arrive early! No early seating for the Fri, 5/19 Gala.
We need Pops Concert VOLUNTEERS for each night, please sign up! Students may sign up for service hours.
JAZZ AT THE OAK
A big thank you to everyone who came out last Friday to enjoy Jazz at the Oak and to those who worked behind the scenes to make it all happen. Click HERE to check out photos and videos from the event!
SENIOR SPOTLIGHT SURVEY
We love our seniors and want to celebrate them! We will be highlighting seniors on our Instagram account with Senior Spotlights.
Please complete the survey HERE by May 22nd and include a fun photo if you wish!

2023 MARCHING BAND & COLOR GUARD CAMP
Click HERE to sign up for the best week of the year! ALL students, and all levels of music experience, are welcome; please share with friends!
MARCHING BAND PERCUSSION — IMPORTANT UPDATE
All students interested in Marching Band PERCUSSION (PIT & DRUMLINE) we have a workshop on Wednesday, May 24th from 4:15-6:30 in Room 501.  This is HIGHLY RECOMMENDED.  You will be receiving the Drumline audition music/requirements, and talking through parts for PIT.  You don't want to miss this if you're hoping to play a specific instrument! Drumline auditions are August 9, 10 & 11.  Students must be there all three days prior to Band Camp.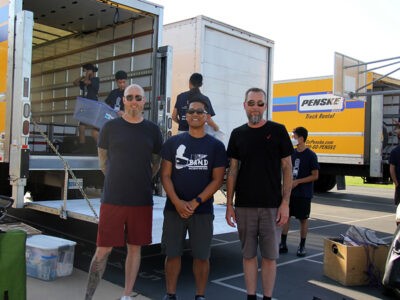 MARCHING BAND NEEDS TRUCK DRIVERS!!
Would you like to help out the marching band this coming year? We are in need of truck drivers to help transport band equipment, uniforms and supplies to each performance. With a 200+ person band, this requires three 26′ trucks per performance. Please reach out to us at TIMB.ExecVP@gmail.com if you would be interested in helping out. Thank you!
TIMB Meeting Tuesday, May 30th, 6:30pm
Join us for a brief, year-end wrap up meeting.
Email TIMB.ExecVP@gmail.com at least 1 hour prior to the meeting for the Zoom link.
COMING UP:
Wed-Thur, May 17th-18th, 7:00pm: Pops Concerts
Fri, May 19th, 7:00pm: Pops Gala
Mon, May 22nd: Senior Spotlight Survey due
Wed, May 24th, 4:15-6:30pm: Marching Band Percussion (Drumline AND Pit) Workshop – STRONGLY RECOMMENDED
Wed-Fri, August 9th-11th: Drumline Auditions
Mon-Fri, August 14th-18th, 9:00am-4:00pm: MANDATORY Marching Band Camp
Questions? Email WhitneyTavlarides@IUSD.org or TIMB.ExecVP@gmail.com