JAZZ AT THE OAK AND END OF THE YEAR CELEBRATION
Don't miss this year's Jazz at the Oak Concert and End of the Year Celebration — combined together for the first time! Arrive a bit early to stake out your spot, get those raffle tickets in, and grab a bite from Tacos & Co who will be serving food starting at 5:00pm. See the menu HERE.
This year we are inviting you to contribute raffle prize. This could be a product or service from your business, a basket you put together, sports tickets or gift cards you are not using. All donors will be acknowledged and publicized and you are welcome to include business cards or contact information. For more information, please contact TIMB.ExecVP@gmail.com. All funds raised support the entire instrumental program. We appreciate your support!
We also need volunteers for this event. Please sign up HERE to help out. Thank you!
POPS CONCERTS WED/THUR, MAY 17th/18th AND GALA FRI, MAY 19th
Join us for the final concerts of the school year! All concerts begin at 7:00pm in the NHS Theater:
Wednesday, 5/17 – Jazz Combo II, String Orchestra, Symphonic Orchestra, Wind Ensemble
Thursday, 5/18 – Concert Band, Symphonic Band, Concert Orchestra, Wind Symphony
Friday, 5/19 – Jazz Combo I, Jazz Ensemble I, Philharmonic Orchestra, Vocal Music
Ticket & Voucher Information:
Wed, 5/17 and Thur, 5/18 Concert prices are:  $10 adults, $5 students and seniors
Fri, 5/19 Gala prices are:  $15 adults, $10 students and seniors
You can exchange your KMA (Keep Music Alive donation) vouchers for tickets for the Wed, 5/17 and Thur, 5/18 concerts. You can use ONE ticket to attend both concerts.
KMA vouchers will not be accepted at the Fri, 5/19 Gala. You must buy a separate ticket for this performance.
No presales; all tickets and voucher exchanges will be at the concert.
CHARTER OAK DONORS: You will be seated starting at 6:45pm for the Wed, 5/17 and Thur, 5/18 concerts. Please arrive early! No early seating for the Fri, 5/19 Gala.
We need Pops Concert VOLUNTEERS for each night, please sign up! Students may sign up for service hours.
SENIOR DEDICATION: POPS CONCERT PROGRAM
Recognize a special senior in the upcoming Pops Concert program, taking place May 17th-19th. Here's what you do:
1. Create your dedication artwork proportionate to the space you are purchasing. The art work must be appropriate and suitable for printing.
Quarter Page (2.5 x 3.75 inches) for $12
Half Page (5 x 3.75 inches) for $24
Full Page (5 x 8 inches) for $48
Save your final artwork as JPG, JPEG or PNG.
3. Complete this formby May 12thand attach the artwork (see form for samples).
4. Pay online.SENIORS AND SENIOR PARENTS, SLIDESHOW PHOTOS DUE THIS FRIDAY!
Seniors and senior parents, please submit a baby photo HERE by Fri, May 5th to be included in the  senior slideshow. Also, if you did NOT take a senior photo during the marching band and/or instrumental music photo shoots, please also include a senior portrait or current photo.
SENIOR SPOTLIGHT SURVEY
We love our seniors and want to celebrate them! We will be highlighting seniors on our Instagram account with Senior Spotlights.
Please complete the survey HERE by May 22nd and include a fun photo if you wish!
2023-2024 AUDITION INFORMATION
Auditions are NOT required to participate in CONCERT BAND and STRING ORCHESTRA. All other ensembles require an audition for placement. Audition submission videos need to be submitted by 11:59pm on SUNDAY, MAY 14th.   Please click HERE for audition instructions. If you have any questions, please email whitneytavlarides@iusd.org.

2023 MARCHING BAND & COLOR GUARD CAMP: REGISTRATION DUE MAY 12th
Click HERE to sign up for the best week of the year! ALL students, and all levels of music experience, are welcome; please share with friends!
MARCHING BAND NEEDS TRUCK DRIVERS!!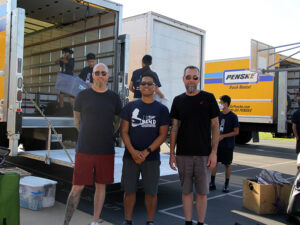 Would you like to help out the marching band this coming year? We are in need of truck drivers to help transport band equipment, uniforms and supplies to each performance. With a 200+ person band, this requires three 26′ trucks per performance. Please reach out to us at TIMB.ExecVP@gmail.com if you would be interested in helping out. Thank you!
TIMB Meeting Tuesday, May 30th, 6:30pm
Join us for a brief, year-end wrap up meeting.
Email TIMB.ExecVP@gmail.com at least 1 hour prior to the meeting for the Zoom link.
COMING UP:
EVENTS
Fri, May 12th, 5:30pm: Jazz at the Oak & End of the Year Celebration
Wed-Fri, May 17th-19th, 7:00pm: Pops Concerts and Gala
Mon-Fri, August 14th-18th, 9:00am-4:00pm: MANDATORY Marching Band Camp
DUE DATES
Fri, May 5th: Senior baby photos due
Fri, May 12th: Deadline to register for Marching Band and Color Guard Band Camp
Fri, May 12th: Senior Dedication ads due for Pops Concert Programs
Sun, May 14th: Audition due for 2023-24 school year (NOT required for Concert Band or String Orchestra)
Mon, May 22nd: Senior Spotlight Survey due
Questions? Email WhitneyTavlarides@IUSD.org or TIMB.ExecVP@gmail.com