Hi all,
First of all, CONGRATS C/O 2023!  :)
For those that are returning and want to get a head start on the All State Honor Ensemble excerpts over the summer when you have a little spare time, THIS ANNOUNCEMENT IS FOR YOU!!!  Please note that there is a NEW audition deadline of NOVEMBER 1ST for All State Submissions (currently, there is not anything listed for SCSBOA All Southern Honor Ensembles, but check www.scsboa.org for more details).
HERE is the link to all of the excerpts, including scales (note: you must be signed into your IUSD account to access these files)
HERE is the link to all of the JAZZ excerpts
Make sure to check with the respective organization's website for more details and recording instructions:
Winds/Percussion/Piano/Harp/Jazz
Strings (note: this for the All State Orchestra in Sacramento from January 31-February 4th.  HERE is the link to the information for the December Honor Orchestra in Palo Alto from December 1st-2nd)
Thanks and we hope you all have a wonderful summer!
Mr. Case and Mrs. Tav

2023 MARCHING BAND & COLOR GUARD CAMP
Click HERE to sign up for the best week of the year! ALL students, and all levels of music experience, are welcome; please share with friends!
MARCHING BAND PERCUSSION
Drumline auditions are August 9, 10 & 11.  Students must be there all three days prior to Band Camp.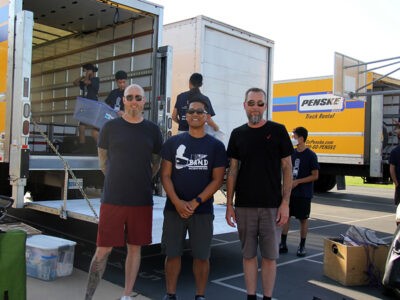 MARCHING BAND NEEDS TRUCK DRIVERS!!
Would you like to help out the marching band this coming year? We are in need of truck drivers to help transport band equipment, uniforms and supplies to each performance. With a 200+ person band, this requires three 26′ trucks per performance. Please reach out to us at TIMB.ExecVP@gmail.com if you would be interested in helping out. Thank you!
CHECK OUT OUR WEBSITE
Go to timbmusic.org to get all of the latest information related to the instrumental music program, including photos and videos from all of our performances, volunteer information and sign-ups, how to contact us and much more!
TIMB Meeting Monday, July 10th, 6:30pm
Join us for the latest NHS instrumental music news, including updates from the directors
Email TIMB.ExecVP@gmail.com at least 1 hour prior to the meeting for the Zoom link.
COMING UP:
Wed, August 9th, 7:00pm: Mandatory Pre-Camp Marching Band Meeting (for Parents and Students)
Wed-Fri, August 9th-11th: Drumline Auditions
Mon-Fri, August 14th-18th, 9:00am-4:00pm: MANDATORY Marching Band Camp
TIMB Newsletter Maintenance
Our TIMB Newsletter subscription mailing list will be undergoing maintenance from July 5th-7th. After July 7th, if you wish to continue receiving important announcements regarding the Northwood High Instrumental Music Program (including Marching Band and Color Guard, Jazz Band, Band, Orchestra and TIMB), please click the button below to re-subscribe.
After July 7th, if your email address is already subscribed, click the link to update your profile.  Next, check your inbox that contains a link so you may indicate the specific Newsletter Selections you wish to receive in the future.
Questions? Email WhitneyTavlarides@IUSD.org or TIMB.ExecVP@gmail.com