IRVINE JAZZ FESTIVAL THIS SATURDAY!
Come out and support our Northwood Jazz Program at the annual Irvine Jazz Festival at Irvine High School THIS Saturday!  Our four big bands and two jazz combos will be performing along with jazz ensembles from throughout Southern California, including our friends at Sierra Vista!
Combo 1 – 8:00am (Drama Room)
Jazz 2 – 9:30 (Stage)
Sierra Vista – 11:00 (HLG)
Jazz 3 – 11:30 (Gym)
CSULB Jazz Band – 12:00 (GYM)
Jazz 4 – 1:30 (Student Center)
Jazz 1 – 2:30 (Stage)
Combo 2 – 3:30 (Drama Room)
Tickets are $5 and can be purchased at the event.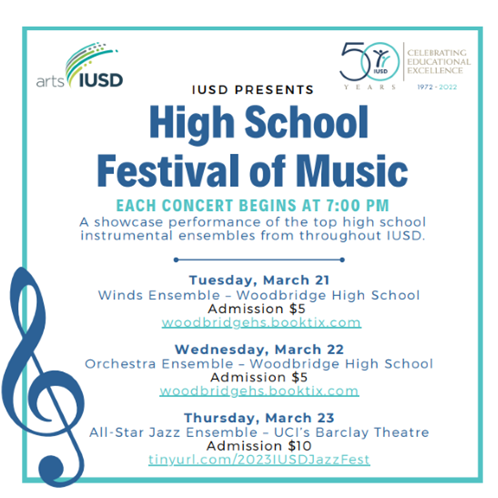 IUSD MUSIC FESTIVALS
Next week, our Wind Symphony, Philharmonic Orchestra, and Jazz Ensemble I will be performing at the annual IUSD Music Festivals, alongside groups from each of the 5 high schools in IUSD.  Come out and support our students in these incredible nights of music!
Tuesday 3/21 @ 7pm, Woodbridge High School Theater
$5 Tickets – woodbridgehs.booktix.com
Wind Symphony
Wednesday 3/22 @ 7pm, Woodbridge High School Theater
$5 Tickets – woodbridgehs.booktix.com
Philharmonic Orchestra
Thursday 3/23 @ 7pm, UCI's Barclay Theater
$10 Tickets – tinyurl.com/2023IUSDJazzFest
Jazz Ensemble I
2023 MARCHING BAND CAMP: SAVE THE DATES! 
It's never too early to start thinking about Marching Band! Online registration will begin in late March; watch your email for details. All events will be held on campus at NHS. ALL students, and all levels of music experience, are welcome; please share with friends!
2023 Marching Band Camp*: Monday-Friday, August 14th-18th, 9:00am-4:00pm
Marching Band Camp Registration Due: May 12th (available March 20th at www.timbmusic.org)
All Camp Parent/Student Meeting*: Wednesday, August 9th, 7:00pm, NHS Theater
New Member Workshop**: Friday, August 11th, 12:30-3:30pm, NHS Room 501
Drumline Workshops & Required Auditions for Marching Band: May (TBD)
Color Guard, Drumline, Pit & Percussion Pre-Camps: August 9th, 10th, 11th (Times TBD)
* Required attendance for ALL members
**Required attendance for all NEW members
Next TIMB Meeting: Monday, April 10th, 6:30pm
Join us for the latest NHS instrumental music news, including updates from the Music Directors.
Email TIMB.ExecVP@gmail.com at least 1 hour prior to the meeting for the Zoom link.
COMING UP
Sat, Mar 18th: Irvine Jazz Festival, Irvine High School
Tues, Mar 21st, 7:00pm: IUSD Wind Ensemble Festival, Woodbridge HS Theater
Wed, Mar 22nd, 7:00pm: IUSD Orchestra Festival, Woodbridge HS Theater
Thu, Mar 23rd, 7:00pm: IUSD Jazz Festival, UCI Barclay Theater
Thu, Mar 30th: IUSD Honors Concert, Segerstrom Concert Hall
SAVE THE DATES
Wed, Apr 12th: 8th Grade Family Night
Thu, Apr 13th: Night of the Arts
Fri, May 12th: Jazz at the Oak
Sat, May 13th: Instrumental Music Awards
Wed-Fri, May 17th-19th, 7:00pm: Pop Concerts and Gala, NHS Theater
Questions? Email WhitneyTavlarides@IUSD.org or TIMB.ExecVP@gmail.com