NORTHWOOD VS. LAGUNA HILLS, HOMECOMING GAME, FRIDAY, OCTOBER 20th, IRVINE HIGH SCHOOL STADIUM
Join us for this Friday. 10/20,  at Irvine High School as the Timberwolves take on the Laguna Hills HS Hawks This is our HOMECOMING Game and many NHS alumni will be in attendance for all of the festivities. The band will perform at the pre-game show, during the game, and at halftime. Invite family, friends, NHS & TIMB alumni; everyone is welcome!
5:30pm – Call time at Irvine High School
WEAR – Band shirt, athletic shorts, black socks & Dinkles
BRING – Instrument, Water, ALL MUSIC
DO NOT BRING – Backpacks, purses, personal belongings of any kind
MEET – On the basketball courts behind the pool/gym
NHS CORE VALUES ALWAYS, AND STAY WITH A BUDDY AT ALL TIMES
6:40pm: Pre-game show, National Anthem
7:00pm: Kickoff
9:30pm: Game should be over. Please plan your ride accordingly.  Director approved pick-up location is the parking lot off Walnut.
TRUCK LOADING: If you have an open 8th period, we will be loading the trucks at that time.  All Band Staff, PIT, Leadership, Uniform Staff, Drumline, Tubas & CG should attend.
TRUCK UNLOADING: All Band Staff, PIT, Leadership, Uniform Staff, Drumline, Tubas & CG are required to attend.  Anyone who needs to make up for tardies should also attend.
LAST CHANCE TO GET YOUR FANWEAR!
Be sure to wear your "I'm with the Band!" fanwear to this week's game to show support for the marching band's final football game performance of the year! If you still need to purchase some, be sure to stop by our final fanwear table of the season at this Friday's game to grab some.
PARENTS, THANK YOU FOR YOUR CONTINUED SUPPORT!
It takes a small army to support the hundreds of students in our music program and each and every performance relies on many, many volunteers. Thank you so much to those of you who have volunteered your time to help keep things running smoothly so far this year. Your support has been indispensable and we cannot thank you enough. We're looking forward to seeing you, and meeting new parents, during the upcoming concert season!
VOLUNTEERS NEEDED FOR BAND SPECTACULAR AND FIELD TOURNAMENT
After this week's game, we have two final performances — Band Spectacular on Wednesday, 11/1, and the Irvine Field Tournament on Saturday, 11/4. We are still in need of volunteers for MOST positions for both of these events. Please check the links below for these volunteer opportunities. THANK YOU for your support of the marching band & color guard. Their performances would not be possible without you!
TRANSPORTATION: volunteersignup.org/W9A8X
UNIFORMS: volunteersignup.org/8JDY8
FOOD: volunteersignup.org/YTEYQ
STADIUM PREP: volunteersignup.org/DQLLD
PHOTOGRAPHY: volunteersignup.org/9K3DF
Other positions specific to BAND SPECTACULAR: volunteersignup.org/43TF4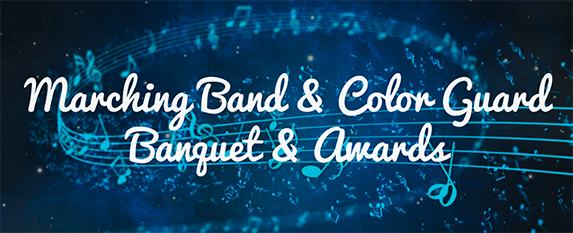 MARCHING BAND AND COLOR GUARD BANQUET & AWARDS
Join us to recognize the end of our 2023 season by sharing a memorable evening with your marching band family which will include dinner, entertainment and awards. Students receive complimentary admission. Click here to reserve your spot! Whether you plan to attend or not, a response is required from every student by 10/23. Thank you!
MARCHING BAND BANQUET VOLUNTEER OPPORTUNITIES
We could use some volunteers in the late afternoon on Wednesday, 11/8,  to help us set up for this special event. Please see the volunteer opportunities below. We greatly appreciate your support!
MB BANQUET & AWARDS: volunteersignup.org/YKPYQ
KMA CONCERT VOUCHERS TO BE DISTRIBUTED NEXT MONTH
A sincere thank you to all of those who have made a tax-deductible donation to our music program! Be on the lookout for your concert vouchers which will be distributed during your student's music class in November. While donations are not required to participate, a tax-deductible donation will help sustain our program at its current level. Donations of any amount are welcome at any time – no donation is too small to make a significant impact! Please visit https://timbmusic.org/donate/ to help Keep Music Alive at Northwood!
CHECK OUT OUR WEBSITE
Looking for the latest instrumental music news, calendar, music downloads or photos and videos from every performance and event? Find them on our website at timbmusic.org
NEXT TIMB MEETING, MONDAY, NOVEMBER 6th, 6:30PM
Join us for the latest instrumental music news, including updates from the Music Directors.
Email TIMB.President@gmail.com at least 1 hour prior to the meeting for the Zoom link. If you would like to be added to the mailing list to receive the zoom link for all TIMB meetings, please indicate that in your email.
COMING UP: 
Wed, Nov 1st, 4:30pm: Band Spectacular at Portola HS
Sat, Nov 4th, late afternoon: Field Tournament, Irvine HS
Wed, Nov 8th, 5:00pm: Marching Band Banquet & Awards, Irvine Outdoor Education Center
Wed/Thur, Nov 29th & 30th, 7:00pm: Fall/Winter Concerts, NHS Theater
Fri, Dec 15th, 7:00pm: Winter Gala, NHS Theater
Questions? Email WhitneyTavlarides@IUSD.org or TIMB.President@gmail.com